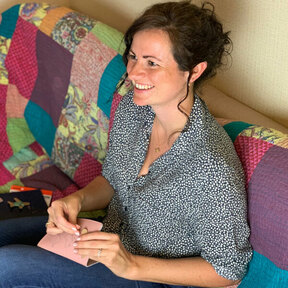 We love travel, adventure & craft. We are always planning the next adventure, while taking time to mark and record the experiences of where we've just come from.
We are Chasing Threads. The first collection of unique, stylish and functional travel accessories that can be stitched and personalised. Born from the idea to 'sew where you go'.
Established by Em Royston, the beautifully crafted products are designed with the adventurer in mind. Having designed the Cross Stitch Map for Suck UK (where she was working at the time), the leap to start the Chasing Threads collection was inspired by a love of travel and life-long obsession with crafting and customisation.
After a move to Hong Kong in 2016 and full of inspiration to create new products, Em was motivated to start her own brand building on the idea to 'Stitch your own way'. With access to a laser-cutting machine, the first iterations of the 'stitchable' Passport Cover & Luggage Tags were made and the hand-stitched prototypes accompanied Em on her travels. The concept worked better than she had ever expected, and she made a small batch of the products which sold out right away. The range has now grown to include Travel Wallets, Tote bags and Pouches.
Everyone takes a different journey across the world and we think there is something lovely about physically recording those travels in thread. Chasing Threads love to encourage creativity and get people to pick up a needle & thread!
No followed people
10 received reviews (90% positive, 9/10)