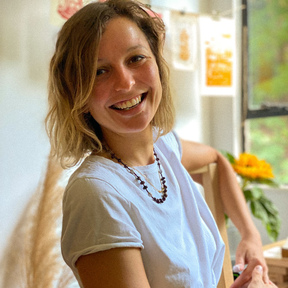 Behind Couleur Aube, it's me, Marion, a French artist and printmaker base in Hong Kong. I've always loved craftsmanship and its imperfections, its unique way of making time unique and fixing the moment.
Initially, a passion for the ancestral techniques of Indian Blockprint - a fascination for the know-how of these men and women, who have engraved floral patterns inspired by nature on wood for hundreds of years. But also, a taste for drawing, a desire to create, to play with colours. ​
Like a way back to basics, my work focuses on what nature offers through the scope of Hong Kong urban-jungle discovery: a touch of vegetal patterns, a lot of mountains, inspiring streets and places…
So far, I participated to several exhibitions in Hong Kong : in the Upcycling Urban Art Fair (Hong Kong, 2021), Urban Colorz Exhibition in Soho House (Hong Kong, 2022), Why Print 3 in KC100 Exhibition (Hong Kong 2022).
2 followed people