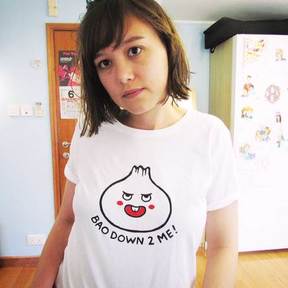 Temporary suspension to deliveries outside of Germany due to COVID19. Some items can be shipped and delivered within Hong Kong. Other deliveries within Europe may still be possible. Please inquire for details. Stay safe, everyone!
Kat J. Weiss is a freelance illustrator & designer from a multi-ethnic, multi-lingual, regrettably expat-like background, born & raised in Hong Kong. She went to SCAD in the U.S., has lived in NYC, then Hong Kong again, and now resides in Rheinland-Pfalz, Germany.
Though she feels kind of out of place sometimes (as is the typical "third-culture kid" narrative) Hong Kong will always be a place to call home.
Kat enjoys drawing with inks, as it is unpredictable, accident-prone, and precise, all at once. Her work is collage- and pattern-like, with surreal and playful compositions. Though she operates in a few different styles – sometimes saccharine and simple, sometimes a little more sophisticated – her leaning towards the decorative remains throughout.
No followed people