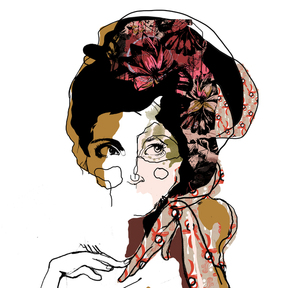 "Every day, Spread love"
I create the brand "Stella Carena" with the goal to pass on the treasures in life. The Art is timeless - Each collection is characterized with an immaculate elegance and style, reflecting an aesthetic of modern society.
I work primarily in acrylics and enjoy creating complex layers and textures. I find inspiration in both the internal and external aspects of my life. Each piece begins as an inkling – an idea or a feeling that evolves with every brush stroke.
Creativity is a natural overflow of my passion for beauty in our world. I interpret the world through an expressionistic view using vivid, intense color with emphasis on texture. I view my work as a journey. Having lived in different regions throughout time, the topography, people, flora, fauna and cultural aspects of place have added direction, depth and nuance into the stories they each hold, the stories that the viewer can integrate into their own internal landscape.
My paintings are filled with energy and vibrancy and explore the use of color with light and application. Inspiration I get pick of all that is beautiful and joyful around me. I strongly believe that we live in an amazing world full of joy and positivity. When I paint, it's a lot of fun and a lot of joy.
All of my collections are made by hands with a lot of love and joy, my mission is to spread the happiness, joy and love into the world.
Through my art I want to share the good energy and joy of life with others. It is wonderful that I can create pieces of art that can hold so much meaning to that person – that is a gift, of which I am grateful for every day.
I hope you will enjoy my treasures as much as I enjoy creating them for you! Unique piece, to unique you.
Stella Carena
Brightest blessings to you!
5 followed people