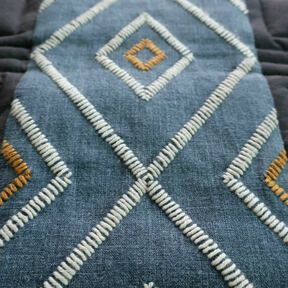 SLOW, SUSTAINABLE, HANDMADE
Thanks for visiting Terra Ooak! My name is Liz and I've been creating bespoke homewares and accessories for about ten years.  
How it all started
In 2010 I spent a year backpacking and walked the Camino de Santiago. The trail led me to Finisterre, a small rural fishing village in the northwest of Spain, where a fellow pilgrim showed me how to make macrame bracelets. Soon I was practicing my sewing using recycled fabric from clothes left behind by pilgrims. Inspired by this slow, sustainable lifestyle, I moved to the Pyrenees mountains in France, where I continued to experiment, discovering the arts of backstrap weaving, embroidery, quilting, and leather work.
I ended up living, learning and creating in the Pyrenees for 8 years before moving back here, to Hong Kong, and setting up TerraOoak. 
About TerraOoak
Everything you see in the shop is carefully handcrafted using earth-friendly materials. 
Inspired by traditional cloth, wear and old ways of making, I work slowly with attention to detail and with longevity in mind. My hope is that these items will be cherished for a long time. 
This philosophy also inspired the name: Terra, from Earth, and OOAK, an acronym for One Of A Kind. 
Fabric with a story 
All the fabrics I use have been collected over years of travel. You'll find TerraOoak items made using hand-spun wool from Morocco, antique textiles from Vietnam and Thailand, plant-dyed fabrics from Korea, French Linen and other special finds I picked up in vintage and second hand shops. I also use organic, deadstock, recycled and biodegradable fabrics such as cotton, silk, linen and hemp. Some fabrics are decades old.
Accessories and jewellery are made from pieces that were carefully collected over time, such as antiques from the jade market in Hong Kong, silver from the Karen Hill Tribe in Thailand, and others I bought in small shops and from artisans during my travels. I also collect little treasures from nature such as driftwood, shells, and stones from the river.
Have a question? Feel free to drop me a message here - I'd love to hear from you! 
No followed people