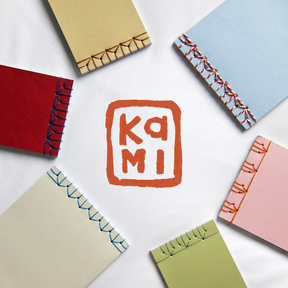 Hello!
Welcome to this little shop selling handcrafted blank notebooks.
A paper loving shop we decided to name it after the Japanese word for paper - kami.
Using papers sourced from Hong Kong printing companies to hand trimming, hand stitching to finally hand stamping with a kami logo, all notebooks/sketchbooks are upcycled one of a kind.
Using whole sheets of offcut paper and creating as little waste as possible, these notebooks are environmentally sustainable and creative friendly.
We also use waste/excess fabric sourced in Hong Kong that is out of season which we wrap our upcycled boards with to create some open French link style notebooks and upcycle red envelopes to create handmade headbands for hardback notebooks.
All notebooks are one of a kind and made with offcut papers and upcycled materials that would make for a creative and unique gift.
No followed people