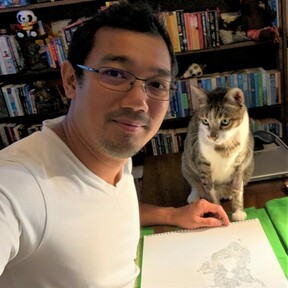 Born in Leyte, an island on the eastern part of the Philippine archipelago, I grew up seeing stencils, buckets of paints and all sorts of brushes lying around the house; lettering materials my father used while working at the District Public Works and Highways manually lettering road signage and public notice boards. I started learning the same craft at a young age.
Fast forward to the 90s, I took up Civil Engineering in college following my parents' desire (and assumption) that a college degree like this has many drawing modules and that it will sharpen my sketching skills - the only favourite thing I like as a kid. Alas! I had more mind-numbing Mathematics than sketching or drawing at the end of my degree. But yes, I survived. This degree would later become my ticket to moving to bigger cities and eventually overseas.
20 years since I left my hometown, I have lived in several cities like Manila, Singapore, Stamford and Hong Kong. I have also travelled to over 140 destinations for leisure, admiring the amazing cultures of the world from Nadi to Cuzco, Jokkmokk to Milford Sound. The secretive Pyongyang and the desert of Namibia remains my favourite. On a trip to Bangkok for a travel conference where American contemporary artist Phil Hansen was guest speaker in one of the sessions, I got inspired to go back to my drawing board upon my return to Hong Kong. I found myself rediscovering an old passion while adding a hint of geography and travel. The union of both passion was one-of-a-kind. My first typography map was born.
Meticulously researched and created over cups of coffee and occasional cat on my lap, each of my artwork brings me closer to the world. In fact, I spend more time reading the rich history of a particular interesting district, city or country before the actual map work starts. There are hard decisions along the way, like whether to include or exclude a particular territory, the right name to use and the exact boundary of a neighbourhood, territory or state. Drawing maps is an artistic journey. It's never easy but always fun. As an artist, I always take responsibility of my decisions and I apologise if there are contents that are deemed incorrect or insensitive.
Come and explore the world with me...and don't forget to hang one of my maps on your home walls.
No followed people